Commercial Solar Systems
Workplaces are going solar at an astonishing rate as the price continues to fall and the demand for alternative power sources goes up. Tampa Bay Solar can help reduce your commercial electric use anywhere from 50% to 90% and even more depending on the size of your solar power system and sun exposure. Solar panels on your building's rooftop can save your company thousands of dollars year after year. Imagine producing electrical power from the sun to run your office equipment, computers, factory or even walk-in refrigerated units.
At Tampa Bay Solar we have an excellent and vast background that surpasses the bounds of the solar power industry. Our founder Steve has experience building his own electric car(s) from scratch to powering remote areas of the world. In fact, there isn't much that we don't know when it comes to solar power and there isn't one obstacle that has stopped Tampa Bay Solar from reaching our goal of satisfying our customers. We do it one rooftop at a time and we will keep on doing it until there isn't a rooftop left without solar panels!
Get Started With a Free Energy Audit Today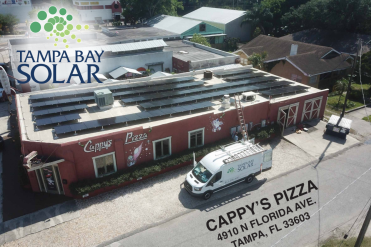 Commercial Solar Panels
With power rates expected to climb 27% over the next seven years, now is the time to act. Start saving more than just money, your project will employ local workers, many of whom are Vets that are trained and skilled solar system installers.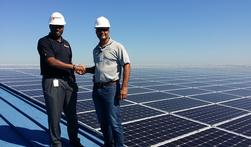 Commercial Solar Contractor
It takes a certain amount of dedication to work on Tampa rooftops all day long, not to mention the dangers of working with electrical wiring. That's why Tampa Bay Solar ensures the best-trained installation crews are working on your business.