Zero Down Financing
You can own a new Solar Energy Powered System with NO MONEY DOWN. We can't make this any easier for you, it's simple, we want you to own it, with a new solar energy power system from Tampa Bay Solar. There has never been a better time to trade off your power bill for your own clean and green solar power energy system! Buy a high quality made in America Solar Power system installed by vets and start living carbon-free and save some money at the same time.
Own your system with a solar loan, available through Tampa Bay Solar.
$0 down to begin your project
Keep your solar tax credit with a 30% same-as-cash option
No equity requirements or appraisals
No pre-payment penalties
All eligible rebates and credits go directly to you, the homeowner
And once the system is paid in full, it's yours. No more power bills each month! Each year electric power bills increase. However, yours won't, your payments stay the same as your neighbors' bills increase with each passing year – year after year . . .
Get Started With a Free Energy Audit Today
More on Costs & Financing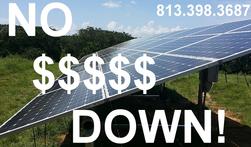 Solar Costs & Savings
Let's do the math on Solar Systems for your home on electrical energy. An average residential Solar package typically runs around $12,000 up to more than $29,000 with a very basic federal tax credit of 26% off the entire photovoltaic system. Your new solar system immediately begins saving you upwards of $200 per month. That's about $2,400 a year. With energy costs expected to increase over the next 10 years, your pay off will accelerate even sooner, depending on increases from the Electric Company.
If financed, once your last payment is made, you will be totally free of a power bill, which in fact, will be much higher ten years from now. Some analysts predict home electric bill increases will be nearly 70% in the next ten year span, making solar systems a real no brainer for consumers.