Solar Hot Water Savings
Did you know a simple solar hot water heater could save you up to 30% off your electric bill? A typical family of four (4) spends almost $1000 per year on energy cost for heating water in the home. For years many Florida homeowners have been saving thousands of dollars by converting their gas or electric water heaters in their home to a solar-heated system.
Solar hot water systems are very affordable right now! Why pay for hot water every month when you can own a solar hot water system and free yourself from the electricity or gas bill. Get a free cost estimate and see the savings by simply filling out the form today, and get the facts.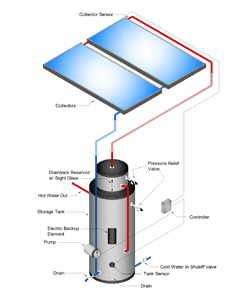 Solar Hot Water Heaters
Solar hot water systems include a larger storage tank to provide you a near-endless supply of naturally heated water for long hot showers, laundry, and dish cleaning needs. Solar hot water customers report having cleaner cloths because of naturally higher water temperatures provided by solar hot water systems. All of our solar hot water systems are also Florida Solar Energy Center (FSEC) Certified.
Get Started With a Free Energy Audit Today