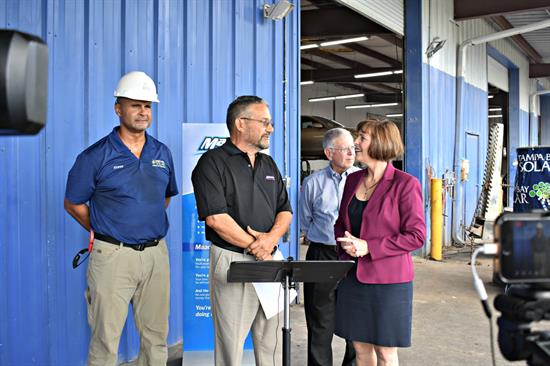 Case Study Overview:

Clients hire Tampa Bay Solar for various reasons: Some clients like how the company is owned and operated by veterans, and others enjoy working with a local company. There are also clients who discover Tampa Bay Solar via personal connections, like MAACO franchise owner Ivan Montoya.
Montoya is friends with one of Tampa Bay Solar's shareholders, so he decided to partner with the company to install solar for his business. The Tampa Bay Solar team installed 290 solar panels on his Tampa MAACO facility in 2018, and installed a 225-panel system on his Brandon MAACO facility in May 2020. Now, the Tampa warehouse system generates $1,800 to $2,000 per month in energy costs, while the Brandon facility system will generate $1,500 to $1,700 per month at TECO's current rates per kilowatt.
Paving the Path to MAACO Franchise Expansion
Ivan Montoya and his family currently own three MAACO facilities and employ 45 workers. The three shops combined generate $5 million per year in sales, and in many ways, Mr. Montoya is truly an American success story.
Born in Nicaragua 70 years ago, Montoya spent his first 40 years in his home country. He worked as a mechanical engineer until the Sandinistas took over the Nicaraguan government in the 1980s, then fled to Tampa to escape the country's violence and instability. After no luck in finding a job as an electrical engineer, Montoya went into business with his parents, who had bought a MAACO franchise in Tampa.
The Tampa business grew steadily, and in 2008, Montoya opened his second facility in Sarasota, followed by the Brandon store in 2013. As he grew the business, he turned the franchise into a family operation: His son Ivan Montoya Jr. runs the Tampa store, his nephew Edmundo runs the Sarasota store, and his son-in-law Cameron runs the Brandon store.
Montoya follows a simple business philosophy: "Be truthful to your customers." Montoya also believes in slow and steady growth. "I did not open my second store until I had enough resources to survive, even if the second location was a total flop," Montoya said. This was one of the reasons he has steadily invested in solar panels on two of his buildings, with plans for the third building in the future.
MAACO Franchise Poised to Gain $800,000 in Free Energy Over 20 Years
As a family-owned and multi-generational business, Montoya is looking toward the future for his MAACO franchise. The solar panels installed on his two business locations will pay for themselves by 2025, and the MAACO auto paint and collision repair business will be viable as long as cars are on the road.
The 515 panels Tampa Bay Solar installed on both facilities will generate electricity for at least 40-50 years. As electric prices continue to rise 3% each year, the Montoya family and business partners won't have to worry about unexpected bill increases. Now, with a combined electric generation at just over $40,000 per year, the Montoya family will gain $800,000 in free energy over the next 20 years (at today's price per kilowatt).
Choose a Solar Panel Installer You Can TrustMore and more business owners are looking at long-term energy prices and recognizing the benefit of going solar now. If you have a brick-and-mortar store, and you're confident that your business will still be viable in five years, it makes sense to get a quote from a partner you can trust. Contact Tampa Bay Solar today for your free energy audit, and we'll help you determine a solar panel system that fits your budget and needs.