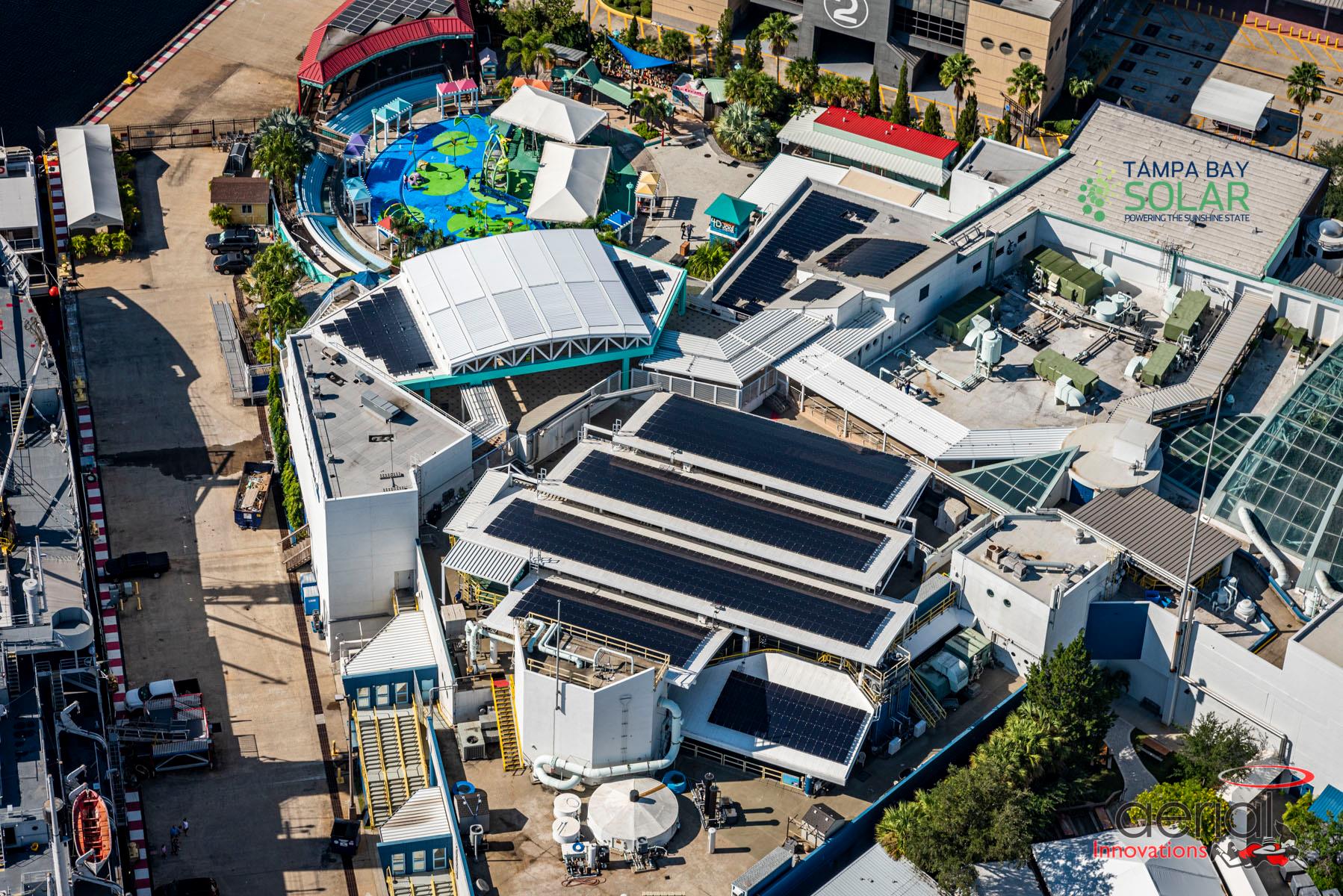 Despite the economic slowdown caused by COVID-19, solar power grew in record fashion in 2020. Last year, 43% of all new electric capacity added to the grid came from solar — and since solar installations have become much more affordable, more companies are taking advantage of going off the grid.
This is also evidenced by the fact that Tampa Bay Solar has continued to win bids on large commercial solar arrays during the pandemic. Some examples of recent commercial projects include:
Florida Aquarium: In the fall of 2020, Tampa Bay Solar installed 1,140 photovoltaic panels on the roof of the Florida Aquarium in downtown Tampa. While it was a complicated install due to the multiple roof surfaces on the Florida Aquarium, the job was completed on budget and on schedule.
Sarasota County Courthouse: In April 2021, Tampa Bay Solar began work on a 628-panel array on the Sarasota County Courthouse in Venice, Florida. As of today, the installers are halfway to completion while simultaneously installing multiple residential systems on a weekly basis.
MAACO: Tampa Bay Solar recently installed 200 panels on a MAACO facility in Tampa, and a similar install for a MAACO location in Brandon and Sarasota.
Upcoming projects: Tampa Bay Solar also has two upcoming commercial installs: 450 panels on a Clearwater Porsche dealership, and 550 panels on Dunedin City Hall.
What other conditions are leading to this massive shift to commercial solar? What circumstances are convincing companies to make the switch and regain control over their energy costs?
In this blog, you'll learn how factors like tax incentives, energy rate hikes, and financing flexibility are driving businesses to solar — and how Tampa Bay Solar can help make the transition easier.
Why Solar Works for Tampa-based Businesses
In April 2021, TECO sought a 19% energy rate hike to pay for new solar projects, which means — if approved — typical homeowners will see their bill rise to $125.48 for 1,000 kilowatt-hours. If you're a TECO customer, you might want to look at your ongoing commercial electricity costs, research your alternatives, and ask yourself some questions: How would a large cost increase impact your monthly profit margin? On the flip side, how much money could you save annually by switching to solar?
If the cost of switching is a concern, there's good news on that front: Until the end of 2022, there is a 26% dollar-for-dollar tax credit on all solar installations to help incentivize more companies to switch to solar — and on a commercial job, you can take advantage of accelerated capital depreciation to get an even faster return on your solar investment.
And while commercial solar installs of 1,000+ panels tend to be more complex than the typical residential install with 50 or fewer panels, they are still affordable; for any job over 50 panels, customers can enjoy a volume discount to help pay for the install.
Why Choose Tampa Bay Solar?
As a Veteran-owned company with experience installing solar arrays on every roof type — from shingle to barrel tile to standing seam metal roofs — there's no project that Tampa Bay Solar can't handle. Our team uses only the best-quality, American-made products to ensure your solar panel system lasts for decades, and we are committed to making the installation as easy, safe, and reliable as possible.
And to make the transition to solar even more manageable, Tampa Bay Solar offers a number of financing options to business owners with good credit — and in many cases, the payment for solar is far smaller than the decrease in your electricity costs.
So, if you own a business in the Tampa Bay area and have a large open roof, consider scheduling your free audit with the Tampa Bay Solar team. The company's installers will analyze your unique energy requirements and show you how you can reduce your electric bill over the next 30 years.
Contact the team to learn how your business can save thousands annually by switching to solar — and in the meantime, check out Tampa Bay Solar's portfolio of commercial projects.