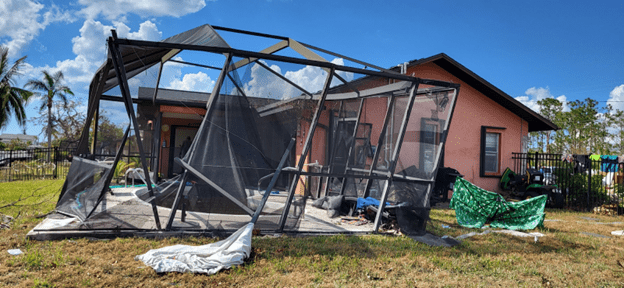 Parts of Florida were devastated by Hurricane Ian when it struck the southwestern coast on September 28th. While the original route had projected the hurricane to make landfall near Tampa, as time went on and the hurricane got closer, the eye of the storm started moving south, heading straight for Ft. Myers.
A week after Hurricane Ian struck Ft. Myers, Tampa Bay Solar's Sales Trainer, Ben Alexander, headed down to Ft. Myers to help out. Tampa Bay Solar encourages our employees to volunteer, and we were happy to send Ben down south to support those affected and our greater Floridian community.
We caught up with Ben after he got back, for more details on his trip.
TBS: How long were you there, and what did you do to help?
Ben: I went down for three days, I took my chainsaw and some basic tools and was mainly removing fallen trees and helping homeowners remove brush. In one home I was removing flood damaged drywall.
TBS: Where did you know where to go, whom to help?
Ben: After the hurricane, I knew I wanted to help, so I used what resources I could to get in touch with those who might need it. I went onto Facebook and reached out to the local Methodist Church in Estero, and Pastor Tim Carson gave me multiple addresses that needed my help. One home had a downed tree over a car, and it took six hours to trim the tree back enough to get the car out. The Methodist Church in Estero is helping out a ton of people down there, and I was just happy to play a small part in it.
TBS: What made you decide to go there?
Ben: Tampa Bay Solar has had a ton of sales in the last few months, so our business challenge is getting systems installed in a timely manner, not selling more deals. Since the sales side of things isn't as busy right now, I felt I could be more effective volunteering down in Fort Myers. Our owners saw the need in Ft. Myers and I knew it was the right thing to do.
TBS: How were conditions down there?
Ben: A week after the hurricane, power was restored in most areas, but about 40% of the traffic lights were not working yet. The National Guard had soldiers directing traffic at the busier intersections. This was a nasty storm – I saw tons of wind and flood damage, and I was several miles inland. We've all seen the photos of the coast, where things were even worse. We were very lucky this storm was well south of Tampa, but it could have easily been us in their situation.
TBS: Have you volunteered before?
Ben: Yes, with Habitat for Humanity in Dade City, with Pure Water for the World in Honduras and with the Methodist Church in Ukraine this past April. In the 1990's I was a volunteer firefighter up in New Jersey.
There are many places to volunteer, once you start looking! I'm grateful my job at Tampa Bay Solar has allowed me the opportunity to participate in this kind of volunteer work. It allowed me to shift my priorities after the wake of this storm and head down south to add to the man-power behind the Ft. Myers' community efforts to clean things up.
Tampa Bay Solar's Heart for Community
While we're a Tampa company, Tampa Bay Solar's heart for community extends far beyond the regional limits and throughout Florida, the United States, and the world, especially when people are in need. We're thankful we have service-minded team members who seize opportunities to help without question and contribute to the betterment of our world.